Succeeding in the New Era of Customer Relationships
(3rd Edition)
Call Center Management on Fast Forward
is the most widely read book on call center/contact center management available today. Trusted for its accuracy, clarity and proven guidance, it has become required reading in organizations around the world. Now, this third edition is updated and expanded to include social media, evolving customer expectations, new performance objectives and metrics, the contact center's evolving role in strategy, and much more!
The ICMI Guide to Serving Customers Socially (eBook)
We are seeing a major and fundamental change in how services are delivered. For the first time, developments on the customers' side of the equation — the rise of smartphones, social media, broadband and mobility — are the most significant factors driving expectations and new services. Given what is happening, it's likely that we'll see more change in the next five years than we've seen in the past two decades. Organizations have the opportunity to either harness and leverage the trends, or get tumbled by them.
ICMI's Call Center Management Dictionary (Paperback)

ICMI's Call Center Management Dictionary is a practical, comprehensive reference for customer contact professionals. This essential resource covers a host of subjects, including, but not limited to, measurements, objectives, reporting, analysis, forecasting, planning, monitoring, coaching, quality, performance, improvement, human resources, training, customer behavior, marketing, technologies, budgeting, finance, strategy, industry acronyms, and more!
ICMI's Pocket Guide to Call Center Management Terms (Paperback)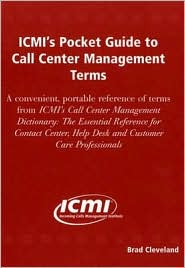 A convenient, portable reference of terms. At 3.5 by 5 inches, the book is small enough to fit in a busy manager's pocket, yet it's packed with industry acronyms and concise definitions of more than 500 call center industry terms. 148 pages.